Posted by Cathal Breathnach on February 18, 2013 | No Comments
It's been a frustrating season to date for Manchester City.
The Premier League Champions exited the Champions League in the tame fashion and perhaps more alarmingly, face a huge uphill battle to retain their league crown, trailing neighbours United by a massive 12 points.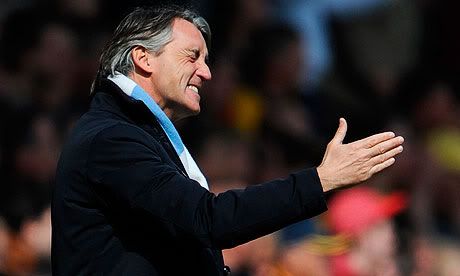 Some have pointed the finger at City boss Roberto Mancini. However, the Italian insists that he is under no pressure and that he has been the best manager in England over the last 15 months.
Speaking in the wake of growing pressure, Mancini said: "In the last 15 months I am the best manager in England."
Sunday's convincing FA Cup 5th round victory over Leeds United will have provided welcome relief for Mancini, but he was still faced with questions surrounding his future at the Etihad Stadium.
"Someone says for six months that Manchester City would change manager, Guardiola would come in, and after Guardiola went to Bayern Munich, now another manager."
The former Inter manager went on to add: "I won one Premier League, one FA Cup, one charity shield, there is not another manager that's won like me in the last 15 months.
"I can do nothing but it is the reality."
Unlike many other so called pundits, I am actually a big fan of Mancini's and I see no reason for City to axe him. True, he has spent a lot of money at the club, but as has been proved in the past, money doesn't guarantee success and Mancini's role in leading City to recent silverware cannot be underestimated.
The one problem I have with Mancini is some of the substitutions he has made in recent weeks. I was lucky enough to be at City's 2-2 draw against Liverpool and the frustration of the home faithful was clear to see as he replaced David Silva with Maicon as Mancini saw his side go 2-1 down.
The next few months are sure to tell all with regards Mancini's future, but I for one would not be backing a sacking anytime soon.
Feel free to leave your comments in the section provided.
Comments